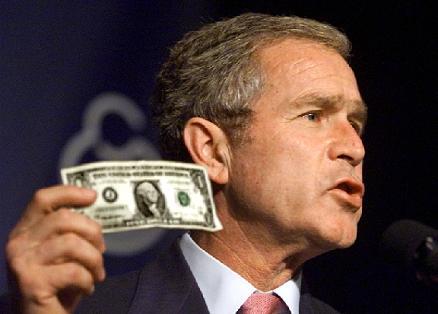 Demise of the American Dollar: True/ False
Source: Dave Lindorff
For some years now, many economists have been predicting an end to the dollar as the world's reserve currency, but this latest plan by the US Treasury will push such a shift forward from "some day" to "now."
As long as the dollar has been the reserve currency—the currency in which key commodities like gold or oil were priced, and the currency that exporting nations stocked in their treasuries as a store of value – it was protected against collapse. But once it loses that status, there will be nothing to prop it up any longer, and it will quickly slide to a value that it deserves. We got an inkling of what is going to happen today, as crude oil prices leapt in the short time it took me to research and write this essay (less than an hour!) by 25%, the biggest jump in the history of the oil market. This timely vindication of my point was purely a move caused by loss of confidence in the dollar. There was no oil supply disruption. In fact, demand for oil has been sinking as the economic crisis grows. Oil producers and traders simply realized that the dollar is going poof, so they radically jacked up the cost of oil in dollars.
If you want to see what where the dollar is headed, look to the currencies of the debtor nations—countries like Mexico or perhaps Mozambique. A nation that makes almost nothing, and that imports most of its needs, cannot have a strong currency.
This might not matter much if we had a functioning domestic economy, where people could find the goods and services they needed without turning to sources from abroad. A big country like the US could simply turn inward and function on by its own domestic economic standards. [More] Click Here...
Working in Your Home or Office: Organizing Whatever!
Posted by: Tracey
I know this is going to sound odd but here goes. I am going to start a new business. My Grand Opening is scheduled for November 2008. I am opening an Organizing business. Organizing garages, desks, offices, kitchens, pantries, bedrooms, closets, basements, sewing rooms, etc. You get my drift.
Well... I don't have a NAME. I need it to be professional yet "sassy" – a name to register with the county, state and city for an appropriate LICENSE . I want to choose one that is fun yet not childish. When someone searches though the phone book or noticies the lettering on my family car, I WANT them to call me to help them. I've got personality, style and a variety of skills.
I love organizing; it comes natural to me. So what I am asking for is your help to come up with a name for my new company. I have many thoughts running though my head but nothing so far "wows" me.
Some examples are:
"Organization Done!" (Done will be in like a stamp effect)
"Take Your Stuff and Organize It!"
"Organizing It All"
"A Place for Everything"
"She's So Organized"
"Hands On Organizing"
Maybe someone has something running around in their head that's right-on!
Thanks in advance for helping.
---
---
This page remains UNDER CONSTRUCTION.

---
In the meantime, the Webmaster is busy, busy, busy!
Kindly return to the HomePage to complete our survey
and validate your Zip Code. There's no obligation.

---
Please invite your friends, relatives, neighbors and business associates to visit the launch of CURRENT NEWS! We are planning some useful give-a-ways, community coupons and items of value! There is no cost. You may register for accelerated benefits and OPT-OUT when you like. LIMITED to adults only, please.

LINK to this webpage and copy the URL address/ paste it in an e-mail for distribution.
---